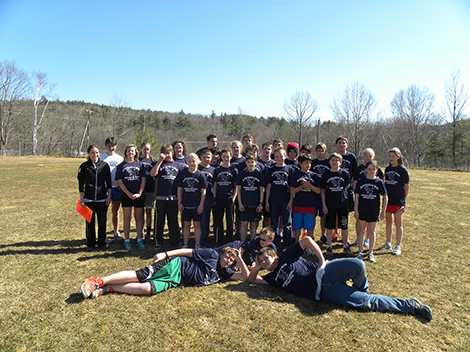 The school year seems to be flying by, which means we are gearing up to start the track season. The season began with our first practice on March 25. Grades six through eight will be representing the school at four meets this year.
AE/MS Track Schedule
April 19: Bow
May 1: Merrimack Valley
May 6: Bow
May 16: Belmont
All meets start at 4 PM.
Coach Nick Fairall will be returning to Andover for his fourth season with the team. With his great energy and knowledge of the sport, the athletes are sure to soar this year. Coach Fairall motivates students in a fun fashion that makes getting fit for track an enjoyable experience. The school is truly honored to have him be a part of the team.
Coach Fairall has been joined by two assistant coaches and one returning Andover alumni. Coach Virginia Clasby will be helping out for a second year. She is a former student athlete from Merrimack Valley track. Coach Clasby continues to be a great support of skills and talent to help bring the best out of the athletes at Andover.
Coach Brian Reynolds is an avid runner who competes in many events himself, including this year's Boston Marathon, and has brought that experience to the team.
An alumnae of AE/MS, Maddy Pfeifer, has given up time from her spring break to help assist Coach Fairall in preparing the team and motivating them to set goals and reach for them.
Check out the school Web site for updates of the team's success and any changes in the schedule. Go, Eagles!