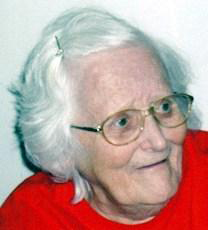 Esther May (Lorden) Charest, 89, of Manchester passed away peacefully on October 18, 2013 at her home with family at her bedside. She was born on June 3, 1924 in New London, the daughter of William Joseph Lorden and Goldie M. Moody.
She grew up in Andover, graduated from Andover High School, and was residing in Manchester. She previously owned a home in Goffstown. Esther worked as a cook for over 20 years at the Bel-Air Nursing Home and also in the Villa Augustina kitchen for several years.
She was the widow of William E. Charest, who died in December 1984.
Esther was so special to all – loving, kind, and true. Her memory is our keepsake. She put her grandchildren before anything and always held her arms open to them. She lived her life with the utmost of strength and dignity, which helped shape all her grandchildren to be who they are today.
She will forever be remembered as an extremely passionate Red Sox fan. With her husband, she enjoyed decorating cakes for many family occasions. She enjoyed making crafts and gardening. She also collected seashells from Cape Cod and York Beach for many years. She hosted many memorable family holidays, most notably the family's annual Christmas Eve potluck party.
Esther spent quality time with her grandchildren at her home in Goffstown, hosting barbecues under the pines. Special memories include holding her very first grandchild, Jason, to her latest great-grandchild, Myles.
She is the beloved Grammy to three daughters, Betty Allin, Diana Turner, and the late Gloria Wheeler, and to 10 grandchildren, 20 great-grandchildren and three great-great grandchildren.
There were no calling hours. A funeral service was held in the McHugh Funeral Home, with burial in Pine Grove Cemetery.